Are you using Social Media for Business Marketing?
How are you doing getting your Brand and Business messages out online?
What Social Networking sites are you on?
Whether you use Social Media
for reaching potential customers,
to interact with people,or
to share content and information,
It can be a powerful tool for your Business!
Check out these statistics...
Facebook has over a Billion users who spend approximately 18 minutes on their accounts every day!
Twitter adds tens of thousands of users every day, and existing "Peeps" tweet over 500+ million times each day!
What about Pinterest? 80% of Pins are re-pinned. How many of those are yours?
3 Million Businesses have Pages on LinkedIn. Do you?
There are 1.2 Billion "Likes" on Instagram daily. Are any of those for the photos that you're posting?
Are you sharing your updates on Google+ and talking to the 300 Million users that are growing at a rate of 33% per year?
4 Billion videos are watched on YouTube every day...
Yes, Social Media IS a powerful tool, and having, and executing, an equally powerful Social Media Strategy can make a big difference in your Brand recognition and the success of your online, content, and inbound marketing.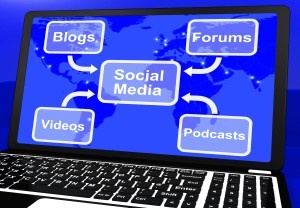 Need more convincing?
Check out more stats in this infographic:

(Thank you to thelogocompany for sharing this information!)