Content is important for all business endeavors - online and offline.
That new company brochure that you want to hand out at the next trade show that you attend doesn't just write itself!
Even more importantly, content for your online presence matters even more, because it's the ONLY source of information about you and your Business and Brand for your customers, and potential customers, in an online environment.
Who will tell your story?
In most cases, you want it to be YOU who is telling your story, sharing your expertise, and informing people about your products and services and what's new and important in your industry.
Whether it's a new article or blog post or other updates to your website OR it's your updates and postings on Social Networking sites, the content that you share matters.
Don't feel like writing right now?
Finding and creating the right content can be a struggle - culling through photos and images, writing copy, thinking up that best title and call-to-action, etc.
So, what do you do when you have "writer's block" or can't seem to formulate complete sentences?
Think about the task of creating content as a Process and start with a First Draft. Get the thoughts out of your head and written down. Brainstorm. Outline. Whatever! The wording and order of things don't matter, as long as you're capturing your thoughts and ideas.
Start with the basics: Who, What, When, Where, and Why (Remember learning that in grade school?!) about every topic that you want to share with people.
10 Rules for Writing First Drafts
Below are "10 Rules for Writing First Drafts". Whether you follow them, or some variation of them, you'll be happy you did when you have the resulting content that you can go back to and filter and mold into viable, useful content that you can publish!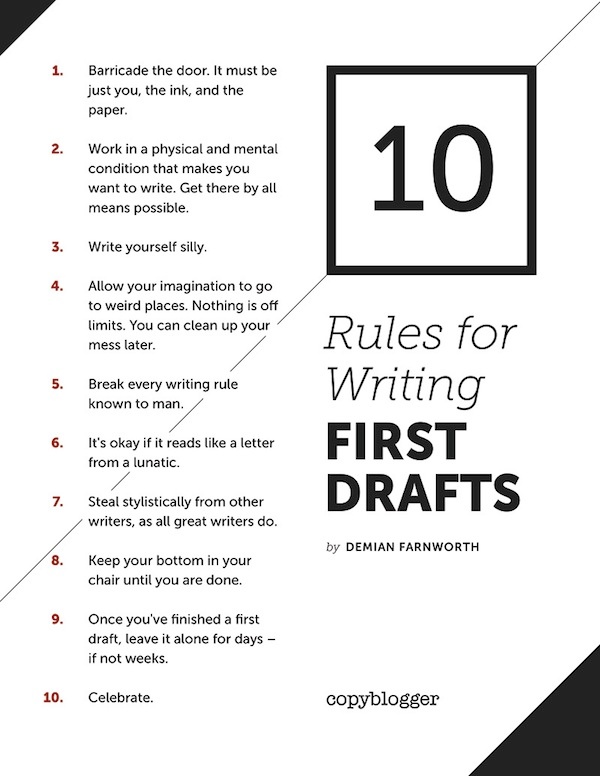 Like this infographic? Get more content marketing tips from Copyblogger.